2 min read
American Integrity Insurance Chooses Opterrix for Exposure Management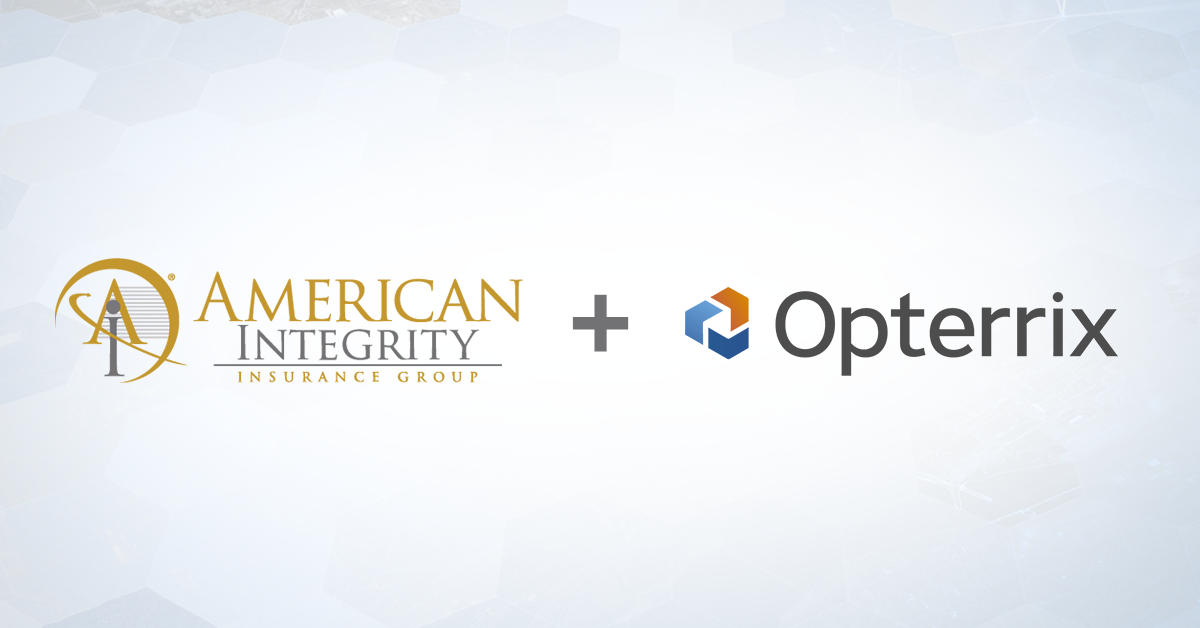 Tampa, Florida – September 12, 2023 – American Integrity Insurance Group, a premier Tampa-based property insurance carrier, announced today that it has partnered with Opterrix™, a leader in proactive risk intelligence for the property and casualty insurance industry, to strengthen its underwriting processes, and risk management strategies.
To meet the evolving challenges of providing comprehensive property insurance coverage in a changing climate, American Integrity needed more robust tools to help better identify address-level and aggregated risks and limits. American Integrity also required access to real-time weather data for improved awareness and response to hurricanes and other extreme weather events.
The Opterrix Risk Intelligence platform enables American Integrity to visualize and quantify its entire portfolio and assess aggregate exposure by peril or geography. American Integrity will leverage Opterrix's robust weather data library, powerful visualizations, and automated alerting to monitor exposures and optimize response during extreme weather events.
"American Integrity is excited about our new partnership with Opterrix. The Opterrix platform will deliver enhanced weather data, improved data visualizations, and more robust aggregation monitoring capabilities in the short-term," said Ryan Hodges, Vice President of Risk Management at American Integrity. "Eventually, American Integrity also plans to leverage this functionality on the underwriting side of the business to aid in our real-time risk selection efforts. Our use of the Opterrix platform in a variety of multidisciplinary workstreams will allow American Integrity to improve day-to-day decision-making and further augment our growth and profitability strategies."
"We are thrilled to include American Integrity in our growing network of innovative insurers," said Ben Zimmerman, CEO of Opterrix. "Our suite of risk management tools and weather-related expertise aligns perfectly with American Integrity's proactive risk management strategy and will help them grow profitably in a region of the US known for weather-related challenges."
###
About American Integrity Insurance Group (American Integrity)
American Integrity Insurance, the fifth largest Florida-domiciled residential property insurer, has almost 300,000 customers and is represented by more than 1,000 independent agents. The Tampa-based company offers sound, comprehensive, and innovative property insurance solutions, including Binding Arbitration, Integrity Select, traditional home insurance and coverage for vacant dwellings, coverage for older owner-occupied homes with Integrity Select, condominiums, manufactured homes, dwelling fire, umbrella, golf cart, X-Wind policies, cyber coverage, and watercraft coverage.
For more information, please visit the company's website at www.aiiflorida.com, call 866-968-8390, or connect with the company on Facebook, Twitter, LinkedIn, or Instagram.
About Opterrix
Opterrix™ is the industry's most powerful risk intelligence platform that enables insurance carriers to proactively identify, quantify, and mitigate avoidable losses. Designed by insurers for insurers, Opterrix™ leverages the latest advancements in meteorology, data science, AI, and cloud computing to accelerate innovation throughout the insurance value chain. Capabilities include:
Real-time aggregation analysis
Intelligent storm monitoring and automated reporting
Policyholder notifications
Proprietary weather data algorithms
Street-level storm analysis and predictive claims modeling
Moratorium automation
To learn more about Opterrix, please visit Opterrix.com or follow us on LinkedIn or Twitter.