GIS Day – A Geospatial Analysis of 2021 California Wildfires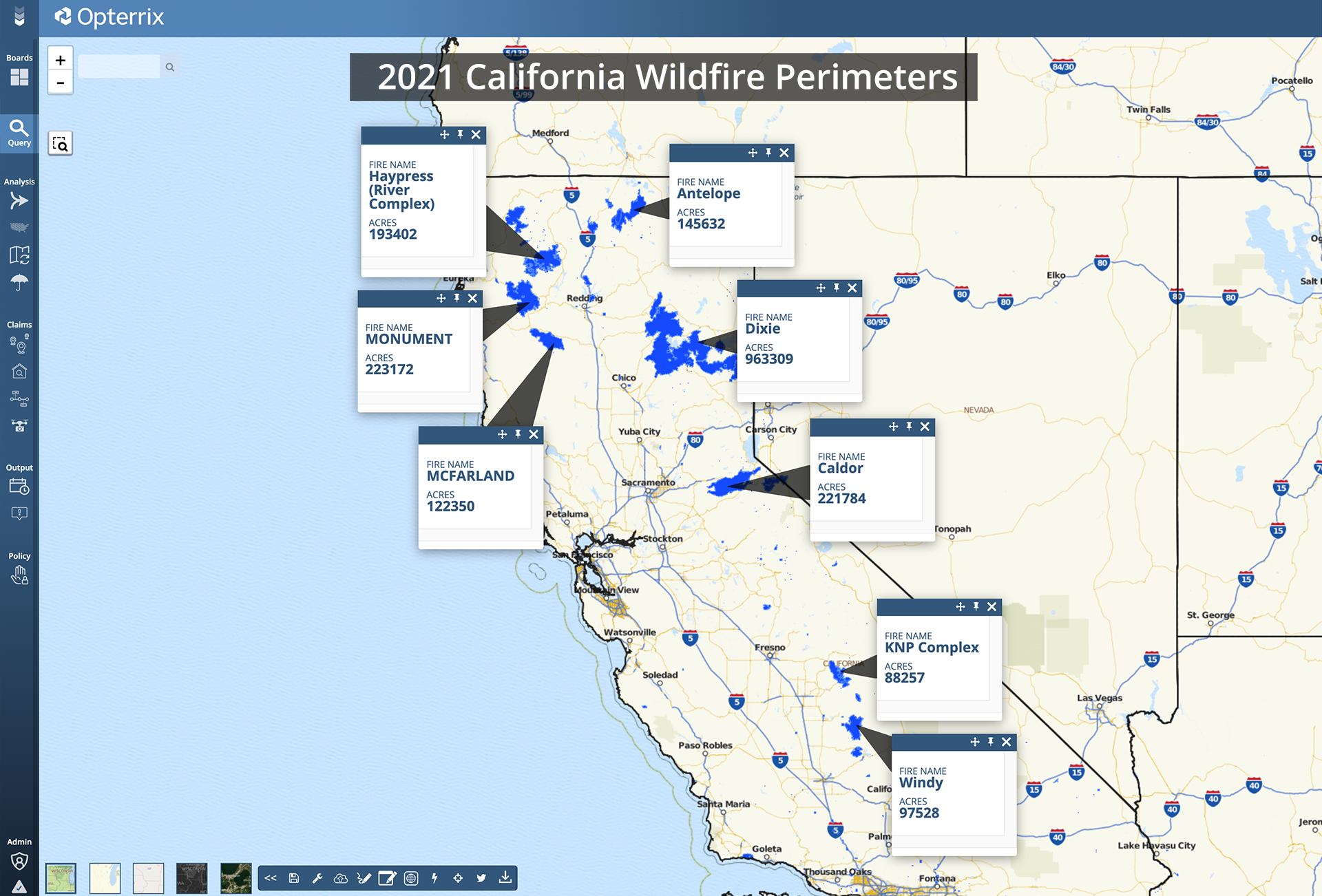 Happy GIS Day! Today we join in a global celebration of all things spatial. At Opterrix, we're passionate about solving complex geospatial problems for the insurance industry.
Today, we look back on another busy wildfire season in 2021 and ahead to how Opterrix can best serve our clients in the future, given our proprietary analytics capabilities for underwriting, claims processing, and advanced notice alerting.
Following one of the worst wildfire years in history, the 2021 wildfire season showed once again that wildfires are playing a significant impact in the Western United States. Opterrix tracks wildfires using multiple sources, from government-issued perimeters (e.g., NIFC) to satellite-indicated hotspots (e.g., GOES). In this year so far, the NIFC has logged 48,366 wildfires, up from 47,132 in 2020 over the same time period. We estimate over 3,600 structures have been impacted in California alone, where drought-like conditions have been significantly elevated for a majority of the state for the entire year.
The Dixie fire, which ravaged Northern California for three months this summer, grew to an estimated 963,000 acres – nearly 25% larger than the state of Rhode Island, and impacted over 1,700 structures. The Caldor fire grew rapidly toward South Lake Tahoe, threatening to impact thousands of homes and destroying over 1,000 structures in its wake.
Wildfire risk will continue to be high in 2022. According to NOAA, there is a surprising 87% possibility that the dryness of La Nina will become stronger in the second half of 2022. Unfortunately, this means that the historic Western wildfires will continue.
Prevent costly wildfire losses to your book of business. Our suite of real-time severe weather detection, claims predictions, and automated notifications enable carriers like you to be proactively prepared. Learn more at Opterrix.com.