Ian Will Strengthen To Hurricane, Hit South Carolina on Friday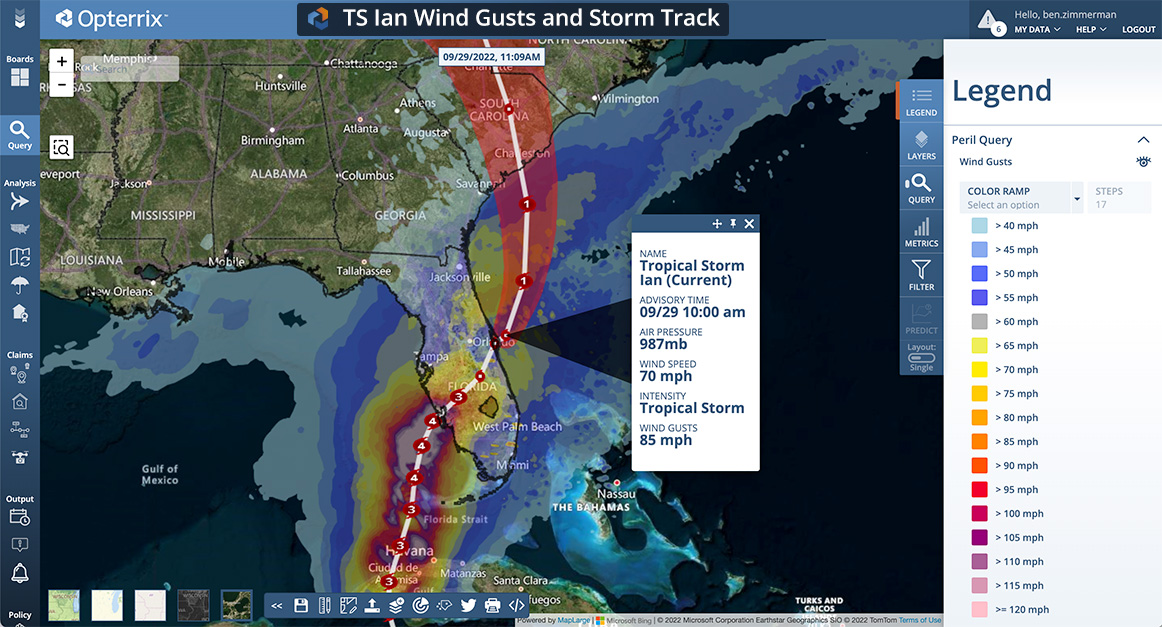 After leaving a wake of damage across Florida overnight, Tropical Storm Ian has crossed into warm Atlantic waters and will strengthen today. Ian made landfall on Wednesday near Ft. Myers, FL, and left devastating wind and storm surge damage along much of the southeast coast of Florida. Lee County, FL, is reporting a 98% power outage while search and rescue initiatives are underway.
"To add insult to injury, we expect Ian to reach hurricane status today and turn northward", says Cindy Hollenberger, Opterrix meteorologist and Director of Customer Success. "Tropical Storm Ian is moving into 80-degree water, which will fuel intensification. Our forecast models indicate that Ian will reach hurricane status this afternoon and is expected to make landfall on the South Carolina coast on Friday. Some models suggest that Ian will be approaching Category 2 before making landfall."
Real-time geospatial analytics enable insurers to better serve their policyholders during events like these.
"Opterrix provides the most powerful and comprehensive catastrophe claims response tools in the industry", says Mike Beles, Opterrix meteorologist and Chief Product Officer. "From real-time weather and claims data mapping to automated policyholder notifications and claims predictions, we have designed Opterrix directly from customer and industry feedback. You have to see it to believe it."
Insurers leverage Opterrix to provide pinpoint insights into how policyholders will be impacted by extreme weather events before, during, and immediately following events like these. Learn more at https://www.opterrix.com