2 min read
July is Expected to be Hottest Month on Record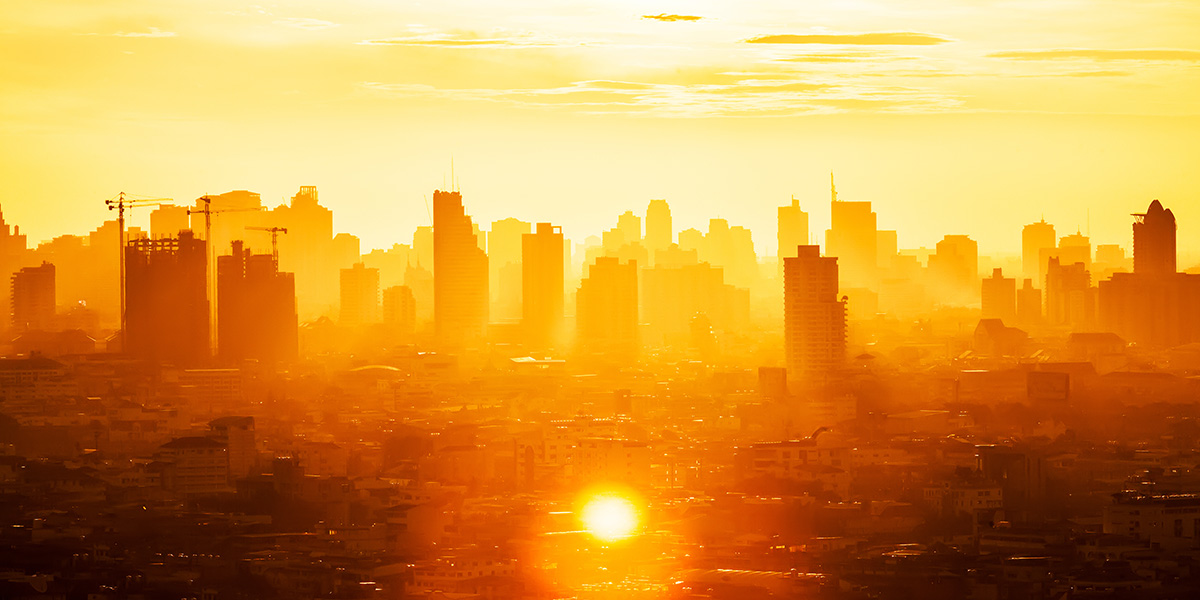 July 27th, 2023 – The World Meteorological Organization and the EU's Copernicus Climate Change Service reported on Thursday that July 2023 is expected to be Earth's hottest month on record, following on from the hottest June on record. The average global mean surface air temperature for the first 23 days of July was 16.95°C, breaking the previous record of 16.63°C from July 2019.
July's temperatures have been related to heat waves around the world, as well as major wildfires in Canada and Greece, and have had major impacts on people's health, the environment and economies.
United Nations Secretary-General António Guterres stated to journalists at the UN, "We don't have to wait for the end of the month to know this. Short of a mini-Ice Age over the next days, July 2023 will shatter records across the board. According to the data released today, July has already seen the hottest three-week period ever recorded; the three hottest days on record; and the highest-ever ocean temperatures for this time of year."
Extreme temperatures are predicted to continue through the end of the month, with thirty-six US states currently affected by excessive heat watches, warnings or advisories.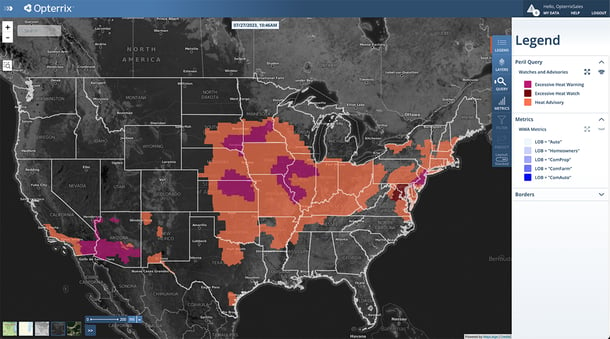 US excessive heat watches, warnings, and advisories as of 10:46 AM CT 07/27/23

Heat waves can have a devastating impact on physical structures, particularly buildings and infrastructure. Prolonged exposure to extreme heat can cause materials to degrade, leading to structural weaknesses and potential collapse. Moreover, extreme temperatures can exacerbate drought and fire risks, increasing the likelihood of wildfires and property damage.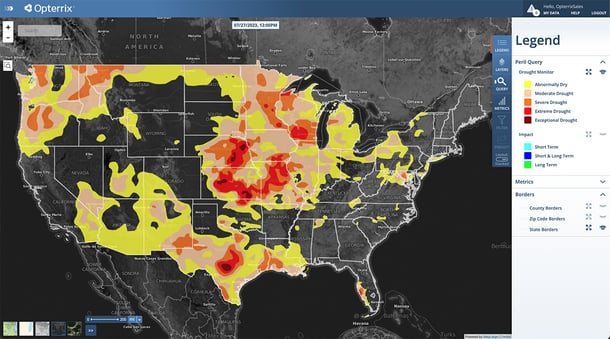 US Drought Monitor showing 24 states experiencing severe to exceptional drought

Now more than ever, it is crucial for insurance companies to proactively adapt their offerings and collaborate with stakeholders to effectively mitigate the unique challenges associated with climate change. Some of the key measures insurers can take include:
Risk Assessment and Modeling: Investing in advanced data analytics and risk modeling can help insurance companies better understand the potential impact of heat waves on their portfolios and develop proactive risk management strategies.
Promoting Mitigation Measures: Insurers are encouraging policyholders to implement measures to protect their properties from heat-related damages. This may include recommending heat-resistant building materials and wildfire mitigation strategies.
Innovative Insurance Products: Developing specialized insurance products that cater to the specific risks posed by heat waves can help both insurers and clients better prepare for extreme weather events.
Collaborating with Governments and NGOs: Working with government agencies and non-governmental organizations can facilitate the implementation of effective climate change adaptation measures, reducing both societal and financial impacts.
---

Opterrix's risk intelligence platform is designed to help insurance carriers and risk managers of all kinds proactively identify, quantify and mitigate the risks associated with climate change. Designed by insurers for insurers, Opterrix leverages the latest advancements in meteorology, data science, AI, and cloud computing to accelerate innovation throughout the insurance value chain.
Learn more at www.opterrix.com