3 min read
Predictive Wildfire Modeling Protects Insurers During Record Wildfire Season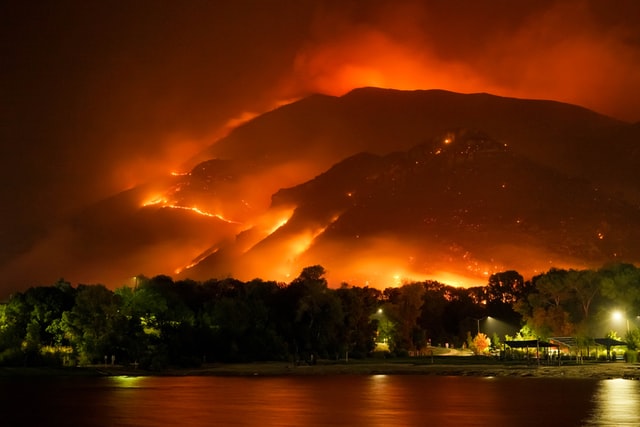 Wildfires are getting more severe every year, endangering lives and causing expensive property damage. With more people living and working in wildfire-prone regions, this trend will only continue — but predictive wildfire modeling can help save lives.
It's often the insurance companies who foot the bill when wildfires destroy homes and businesses across the US. But with the cost of building supplies increasing along with the frequency and severity of wildfires, insurance companies need help managing the growing wildfire risk.
Read on to learn more about how accumulation, moratorium, and predictive wildfire modeling capabilities from Opterrix can proactively protect insurers from an active wildfire season.
Predictive Wildfire Modeling Capabilities Protect Insurers
People are moving into areas where wildfires are likely to happen. While at the same time, climate change is causing an increase in the frequency and severity of wildfires across the country. These factors, combined with the worst drought in the last 1200 years in the West, make wildfires an increasing threat to insurers and individuals in the region.
Insurers need to focus on avoiding over-accumulation of policies in force residing within risky geographies. And they need to respond proactively to changing conditions to declare moratoriums at the right time and locations. Insurers who issue too broad of a moratorium risk losing business they could safely write. And insurers that issue moratoriums too late could face avoidable losses.
This balance is made even more challenging by the dynamic nature of wildfires. With conditions changing rapidly during a catastrophic fire, only proactive wildfire modeling capabilities truly protect insurers.
Historically insurers have focused on long-term and medium-term data when considering wildfire risk. And while these historical metrics are useful when considering long-term risk, proactively predicting severe events happening in the short-term is how lives are saved and property is preserved.
The challenge with creating these timely forecasts has been due to the computationally intensive processes required to develop and run these models, making them typically unavailable for easy consumption in a risk management platform. Opterrix has solved this problem with its new approach to wildfire spread. By combining historical satellite data with daily forecasted conditions, topographic variables, and vegetation cover, we applied a machine learning approach. This allows us to predict wildfire spread 24 hours in advance.
Accumulation Modeling Prevents Over-Saturation in Wildfire-Prone Geographies
Insurers must continuously focus on their accumulation, especially in wildfire-prone areas. And as wildfires spread and affect more of the country, this over-accumulation risk increases. With about 72,000 wildfires predicted in 2022, insurers who write in the western US may already be at risk. We've already seen over 33,000 wildfires this year.
Insurers and reinsurers must focus on avoiding over-saturation in catastrophe-prone areas. Since an insurer's book of business is dynamic, always changing in response to renewals, M&A activity, cancellations, and new sales, accumulation models also continuously change.
Opterrix can handle billions of data points in seconds, transitioning millions of flat numerical records to vibrant maps. Imagine the power of visualizing every policy across any region with real-time data — then picture how satellite weather imagery and predictive weather capabilities layered with your policies in-force changes everything.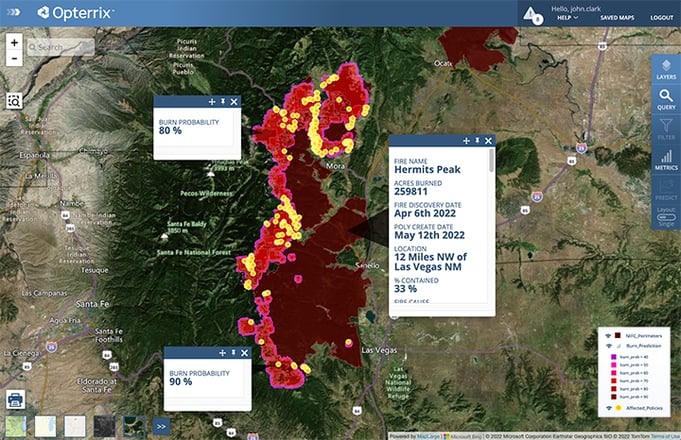 Opterrix's proprietary predicted burn modeling keeps insurers ahead of the blaze.
Real-Time Moratoriums Protect Insurers From Avoidable Wildfire Losses
When insurers have reliable, real-time data, they can issue accurate moratorium declarations to prevent avoidable losses. Without proactive information, it's like throwing darts while blindfolded. But with wildfire risk, getting it right every time is critical.
Using real-time data from Opterrix, insurers can issue moratoriums that make sense. With our powerful satellite tracking, you can see where a wildfire is moving in real-time, which means your moratoriums can follow the actual path of destruction. Wildfire spread can also be forecasted out 24 hours, allowing you to respond proactively.
What if, instead of shutting down an entire zip code or county, you could continue writing business in unaffected areas? Business can continue as usual for customers and policyholders located in the opposite direction of the wildfire, while insurers help policyholders who are affected by the catastrophe.

See the Power of Predictive Wildfire Modeling With Opterrix
Contact us today for your personalized demo to see how the robust real-time predictive wildfire modeling capabilities of Opterrix can help protect you.


---

External Links: